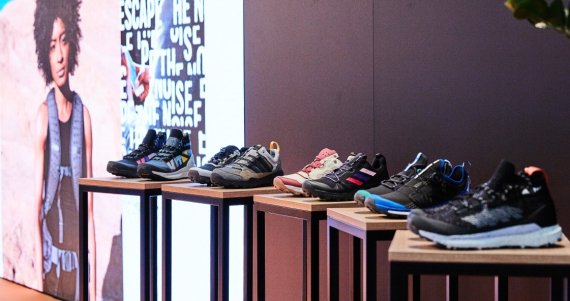 It is a simple example with which Steffen Hack, Director Adidas Outdoor Digital Commerce, quickly convinces the audience of his presentation. He explains that Internet users start more than 3.5 billion searches a day on Google, a not inconsiderable part of which is searching for online shopping – but almost no one thinks of a specific brand, he adds.
"As a retailer, you have exactly one minute to win the search," says Hack. "One minute to be relevant, coherent, personal and simple. And therefore: to assert oneself."
The focus of OutDoor by ISPO in Munich is on the consumer, finding him and fulfilling his wishes is the top priority for outdoor brands, but also for retailers. Hack presented his concept with Thomas Müssig, Digital Manager at Adidas Outdoor, in the lecture "Win at Search: How Optimizing Your Own Master Data Helps Consumers Find Your Products".
The two spoke about new experiences: Adidas is currently working on transforming its e-commerce structure and intends to operate 50 percent more digital commerce by 2023. Hack and Müssig showed what the company has recently changed, but also what every retailer can do to be fit for the e-commerce future.
The key to being successful with the users is Master Data. Because only with the right keywords, search engine optimization (SEO) and search engine marketing (SEM) is it possible to become a page-one company on Google – and 64 percent of clicks happen there. "So it's important to spend money on online marketing," says Hack.
Because Adidas also had to get some cleansing done, keywords have to be spot-on. "Slip jacket", as Hack demonstrates by way of example, was not a keyword. "You don't win that way with the user, but you win with Windbreaker." Similarly ineffective was the word "walkshoes" for an Amazon retailer who simply translated literally.
In addition, correctness also counts: once the brand mistakenly identified a fleece jacket under the name "soft shell jacket", which possibly generated profits during the search. "But customers send them back because they're not satisfied."
In a first step, however, the two Adidas employees summarize the three golden rules for the merchants' own website:
Start with yourself, analyze your website by

Use a search bar on the site
Use filter navigation

Be consistent across brands and categories
Be relevant for your target consumers
With this approach it is exactly a matter of optimizing the content on your own site for search engines. According to Müssig, it is important, as so often in this digital world, to be "unique" and to "know your user very, very well". He is confident that accurate analysis can bring any retailer to the top.
Müssig told how Adidas tackled this search engine optimization after cleaning up its own website. Adidas set up its own SEO keyword database, in which not only frequency of searches is an integral part, but also relevance and language used by Adidas customers for searches. An important tip for the various retailers, who each have their own target groups: The small climbing specialist from the Allgäu wants to reach someone other than the universal retailer Globetrotter.
"If you just look at the frequency of searches, it's hard for a small retailer to keep up with Zalando or Amazon," Hack says. It is therefore often more important to use industry-specific words.
In most cases, an industry remains in a state of flux anyway – and specialists know which words are being searched for in the industry. By the way, the exact examination of the Google searches alone already brought the Herzogenaurach brand 30 percent more sales and 20 percent more visits. In addition, many pages climbed in the ranking.
Adidas also offers to work with retailers to strengthen the triad of brand, consumer and retailer. With a certain motive, because the two also revealed: almost half of all Google searches revolve around local information, a large part of the search engine also searches for shops that are only a few kilometres away. The company is also interested in reaching these customers together.
["source=ispo"]