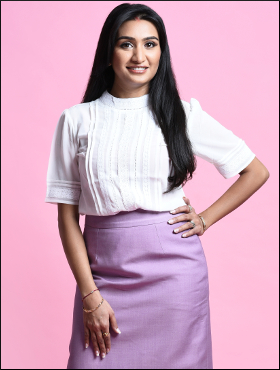 In an exclusive interview with SME Times, Nidhi Yadav, Creative Head & Founder AKS Clothings, said that the Indian apparel industry is aggressively working towards carving out an exclusive niche audience base for trends that have originated from the nation's traditional weaves, sewing and printing styles.
Excerpts of the interview…
Please tell us about AKS Clothing and its entrepreneurial journey.
Nidhi Yadav: It was during my days of fashion designing course in Italy that I got the opportunity to closely study the remarkable success stories of renowned fashion apparel brands like Zara and H&M. It was then and there that the idea of fast fashion was born into my mind which later bloomed into AKS Clothings, an ethnic fusion brand of Yuvdhi Apparels in May 2014. Initially, the journey started with a small seed capital (3.5 lacs) and a small warehouse of less than a thousand units which has now crossed the 100 crore revenue mark in Q3 of FY 2018-19. Additionally, the brand has a respectable presence in both online and offline markets.   Earlier I was working with an MNC on a very good salary package, but I couldn't see myself fitting into a cubicle in a traditional 9-to-5 setup so I jumped into being an entrepreneur where I could have more space and liberty to flourish my creativity. Time limits restrict a creative mind, and I am a creative soul. I am thankful to my family, especially to my husband who always supported and motivated me in chasing my entrepreneurial goals.
What are the product range do you offer?
Nidhi Yadav: Under the brand AKS, which is targeted to all young ladies/girls from 18 to 35 years of age, students and working women, we offer a vast range of ethnic women's wear, including range Kurta/Kurtis, Palazzo, Ethnic Sets, Anarkalis, Leggings, and Mojri (traditional footwear).
Please share your views on the present scenario of the apparel industry in Indian.
Nidhi Yadav: In the present scenario, the Indian apparel industry is not just picking any other trend from the international fashion weeks and transforming it with Indian weaves, but instead, it is more aggressively working towards carving out an exclusive niche audience base for trends that have originated from the nation's traditional weaves, sewing and printing styles. Now, it is more about creating sustainable fashion that goes well with the hectic schedules of today's lifestyle.
What are the major challenges do you think Indian start-ups have to face in the country?
Nidhi Yadav: A worrisome problem for budding startups is employee attrition. Often it is witnessed that the good talents tend to leave the organisation for handsome salary packages every now and then, instead of sticking with a particular organization in long-run and growing with it. This has brought a tough time for entrepreneurs as mostly they get stuck with hiring and training employees instead of focusing on more crucial roles of planning future strategies and managing the business adequately.
What is your view on the instability of our government policies as regards to e-commerce?
Nidhi Yadav: The current government has brought some really good policies like Make in India; Startup India, Standup India and many more which led to a great boom in the startup business across the varied sectors. But, unfortunately, the instability of our government's policies in regards to e-commerce is keeping these businesses away from the enormous amounts of potential audience available online. Governments need to urgently look into this matter to ensure the safety and growth of businesses.
Please tell our readers the future plans of AKS Clothing.
Nidhi Yadav: We want to be the market leader in women fusion wear and to accomplish this mission the entire team of AKS is working day and night. High market penetration via e-portals is our top strategy in this direction, and we expect some really good results. Also, To scale up the offline penetration via shop-in-shop and B2B modules recently the company opened up two offline stores in Nagaland. Also, we are planning to open at least 20 stores pan India by mid-2019.
["source=smetimes"]