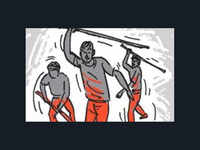 Indore: Apparel exports have witnessed a sharp drop in demand leading to towering inventories and rising liabilities of local manufacturers, industry players said.
Exports of apparels have dropped by over 30 per cent in comparison to a year ago, experts said.
Madhya Pradesh Textiles Mills Association secretary M C Rawat said, "Apparel exports are going through a rough phase due to price competency. Demand for locally manufactured apparels has gone down in the international market owing to lack of tax benefits as availed by other manufacturing countries."
MP is the fourth largest cotton producing state but despite that local textile industries are getting tough competition from rivals due to higher costing.
Industrialists said that other leading textile exporters get duty exemption for textile industries unlike India which leads to higher costing for Indian products.
A senior executive at a leading apparel manufacturer from Dhar said, "We have seen a drop of over 30 per cent in exports from our regular markets. Traditional customers are shifting base to other countries due to less prices but for us it is not possible to cut down the cost as we do not enjoy any tax benefit unlike our rivals."
India has a share of over 5 per cent of global textile and apparel trade of which garment contribute the most 37 percent followed by cotton yarn and fabrics which compromis about 23 per cent.
Local manufacturers said in absence of demand, stocks are going up and running expenses are mounting. TNN
["source=timesofindia.indiatimes."]